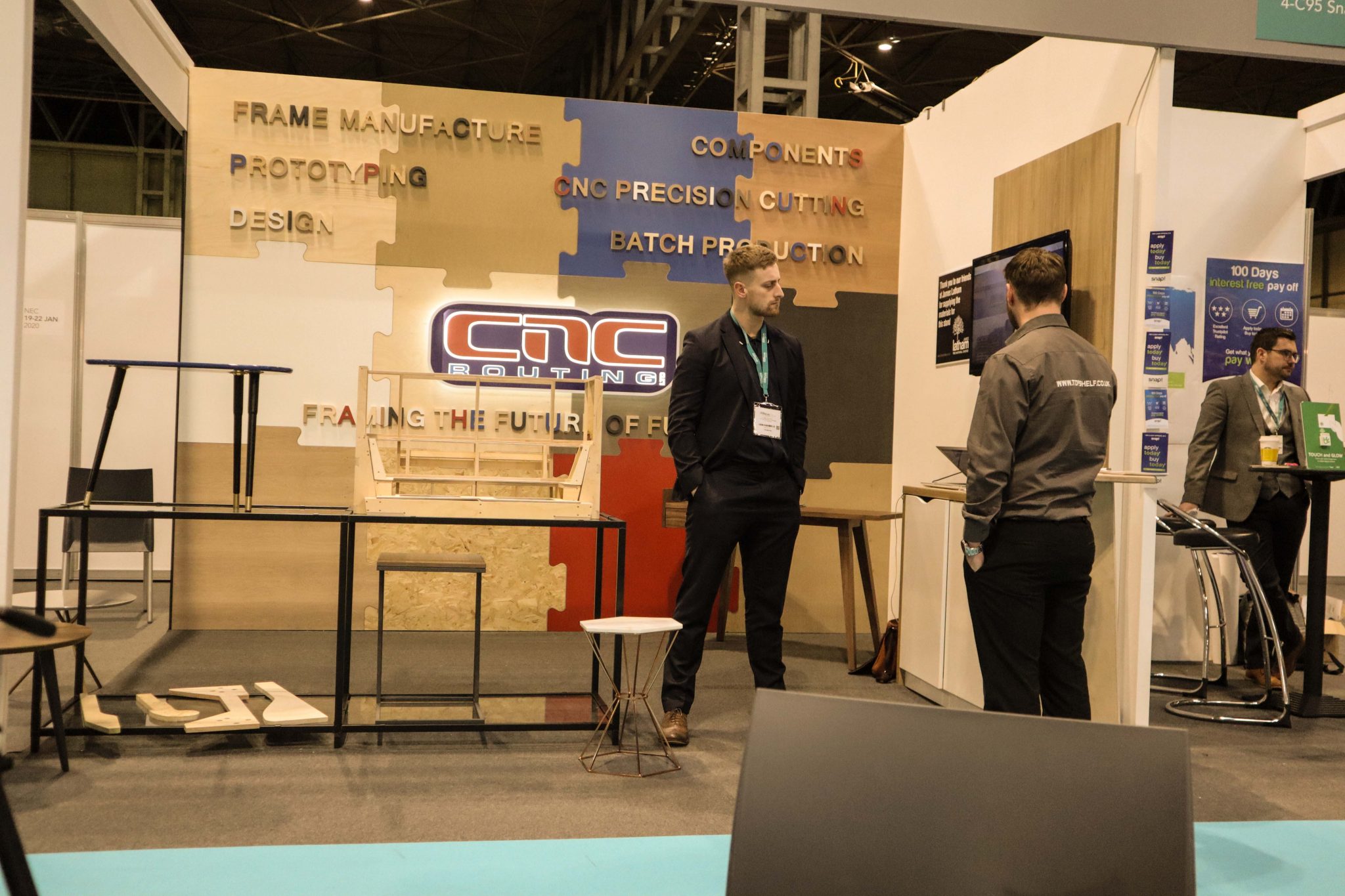 CNC Machining Birmingham – 

Exhibitions

Our CNC machining Birmingham services can be used in a wide range of different industries and for lots of different purposes – including exhibitions. We are very proud to make our CNC router services as flexible as they can be so that we can provide tailored solutions made to your exact requirements – giving you the perfect flooring, signage or wall sections for your exhibition stand.

CNC Routing are able to turn around high-quality machining and joinery appropriate to the exhibition trade. The nature of this sector doesn't allow for any missed lead times or mistakes which we are able to cater to. Whether the end product is for one off use or multiple site use, we can ensure the design is appropriate to the application.
Investing in the best equipment for CNC machining in Birmingham
To be able to provide the highest quality of CNC machining services, we have gone above and beyond with our facilities to ensure we can accommodate your requirements. When it comes to CNC cutting and CNC routing, we want our clients to invest in solutions that tick all the right boxes. In order to make sure we can create exactly what you or your business is looking for, we've invested heavily in the best machinery and the latest state-of-the-art equipment. We have a wide variety of AXYZ routers to use in our routing, all of which have various sized beds.  Our largest bed is 4880mm x 2635mm and allows our clients to have four 1220mm x 2440mm panels on it at the same time. We can also fit compact grade panels, solid surfaces and jumbo sheets with ease.
Creating CNC solutions for your exhibition
At any exhibition it is important to make sure you have everything you need to exhibit and pitch in a professional and confident manner. Making sure your exhibition plot stands out and looks aesthetically pleasing is important to attract customers, clients and investors, and at CNC Routing we can help. Using our CNC cutting service, we can fabricate bespoke shaped solutions that help to showcase your brand and make you stand out amongst your competitors. Whether you are looking for something quirky or something conventional, our CNC router services will use advanced machinery and the experience and skill of our team to create custom parts that are guaranteed to support your exhibition – showcasing exactly what you are all about.
Going the extra mile
With over twenty five years of experience, the team here at CNC Routing are proud to go the extra mile when it comes to meeting your exhibition requirements. We understand the importance of getting it right first time, and we'll do our very best to create parts that exceed all of your expectations with our CNC machining Birmingham services.